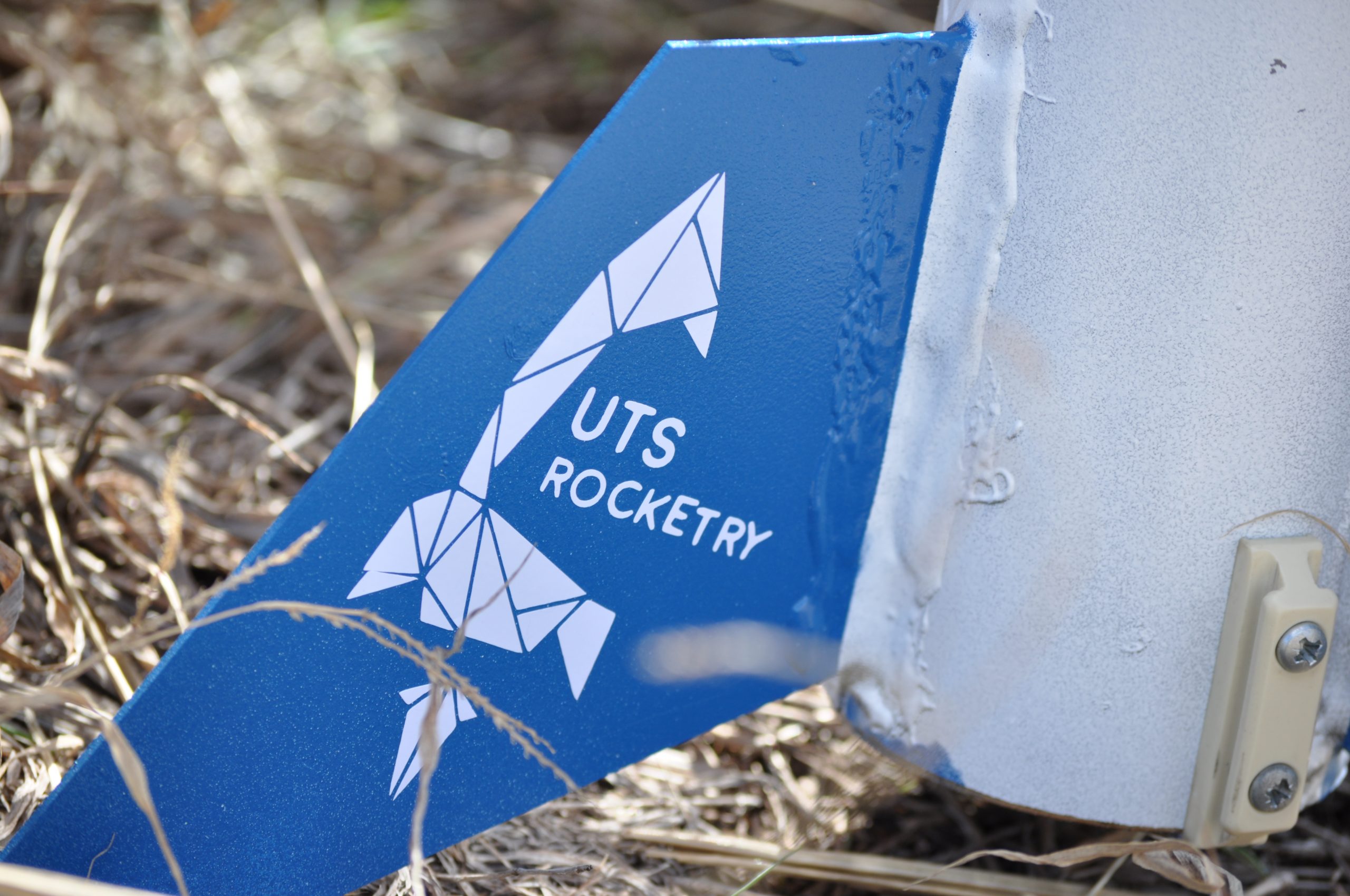 For our first Team of the Week feature, the AURC committee are excited to showcase UTS Rocketry. UTS Rocketry have been working hard on their rocket, Asteria, to participate in the 30,000 ft division at the the AURC in April. Alongside working on their Level 2 Certification, the team have also been busy designing and testing a range of smaller rockets for their members to get some hands-on rocketry experience.
Progress Overview
The UTS Rocketry Team is working actively towards meeting the competition deadlines, with our main rocket Asteria (L: 229cm/D: 13.5cm/31.35kg/N-Class) largely manufactured and ready for our initial test flight in early March. Asteria is designed to carry our full technical payload to 9000km and comprised of a full Carbon Fibre exterior and a mixture of Balsa, CF rod, and 3D-printed PLA acting as the key structural components. Currently, our mechanical team is finalising the production of our nose cone, made from a carbon fibre wet lay over a vacuum formed mould. We have put effort into forming a mass manufacturing process for this (amongst other parts) as we have identified the nose cone as a part in need of frequent replacement and modularity.
Having finalised their payload PCB design, our Electrical team is organising its initial print while configuring what will be our onsite tracking and data streaming. In addition to the competition mandated package, our payload is designed to accomplish two key missions – Firstly, the recovery of flight data to corroborate our flight simulations, which includes a flight camera for full HD onboard video. Secondly, to equip our community outreach partner (PAAS) with a host of sensors to perform a tailored atmospheric experiment at apogee.
In addition to our competition rocket we are endeavouring to design and manufacture a host of UTSmade rockets. The first of which is dubbed Charmander (L: 56cm/D: 3.5cm/400g/G-Class) A smaller class rocket manufactured using an SLS 3D printer. It was designed to give the wave of newer members first hand launch experience & a chance to familiarise themselves with basic rocket features. The second is Cyclops (103cm/D:7.6cm/1.1kg/G-Class) designed to test out payload housing/flight video systems and manufactured almost entirely out of carbon fibre to give the team experience with the procedures. We are also currently developing a clustered motor design for launch later this month. The goal is to create an environment for all our members to learn as many facets of rocketry as possible and focus on broadening what ideas we can bring back to our competition design.
The team most recently travelled 6 hours to Mullaley to launch a rocket dubbed Godzilla as we continue to work towards our Cert 2 for the competition.
Originally posted March 4, 2019